Expense Receipt Capture
Businesses on the go often make mistakes in tracking their expenses. This is absolutely important, both for taxes and for properly accounting for the costs of your business. There are many different apps and programs out there for tracking, many of which will work with QuickBooks, especially Quickbooks Online. I will be discussing two of these, Expensify and Receipt Bank, in my coming articles, but for those of you out there without a software solution, I wanted to cover the more basic method. For a bare minimum, all you need to track your receipts is a smart phone. Any time you make an expense, take a picture of the receipt. Your phone will keep all of these pictures where you can locate them. If you use a cloud photo storage, create a specific folder there to save the receipts to. This will enable you to quickly find all of your receipts to track them. If you do nothing else to track your expenses, do this. I takes 30 seconds for each transaction and will save you a lot of time later.
If you would like a more organized paper method until you determine what system is best for you, you combine a notebook with your smartphone to create a simple receipt capture and tracking system. Take your notebook and some tape with you anytime you could have an expense, even if you are not planning on one. Generally it is easiest to just keep the tape in your work vehicle. When you do have an expense, tape the receipt into your notebook on the next open page, make any important notations about the expense in the margin, and then take a picture with your smart phone. Do not use the notebook for any other purpose. The digital picture will keep that receipt easy to access and record. The notebook provides a chronological physical record of your expenses.
For a long term physical record, you can then later copy your receipts with a copy machine so that you get a clean, unwrinkled 8.5×11" sheet, and then stick it in a filing cabinet with appropriate labels. Digital solutions can provide this long term tracking with more efficiency, but if you are set on a paper version, this works well.
Whatever your method, digital or paper, you always want to make sure your receipts are kept in one place. Maybe it is a folder in your shared files with sub folders for kind of expense or by job. Maybe it's one file cabinet with the copies. Or maybe it's just a shoebox with the original receipts you captured with your phone's camera. Even the most basic of these steps will make your life easier, especially come tax season.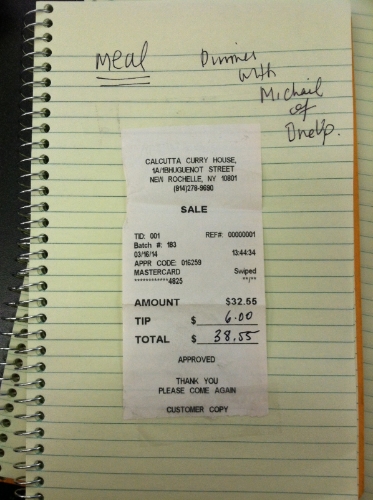 Want help creating a better tracking system for your expenses? Interested in the digital solutions that will help track your receipts and input them directly into QuickBooks? Contact me and I would be happy to help you!